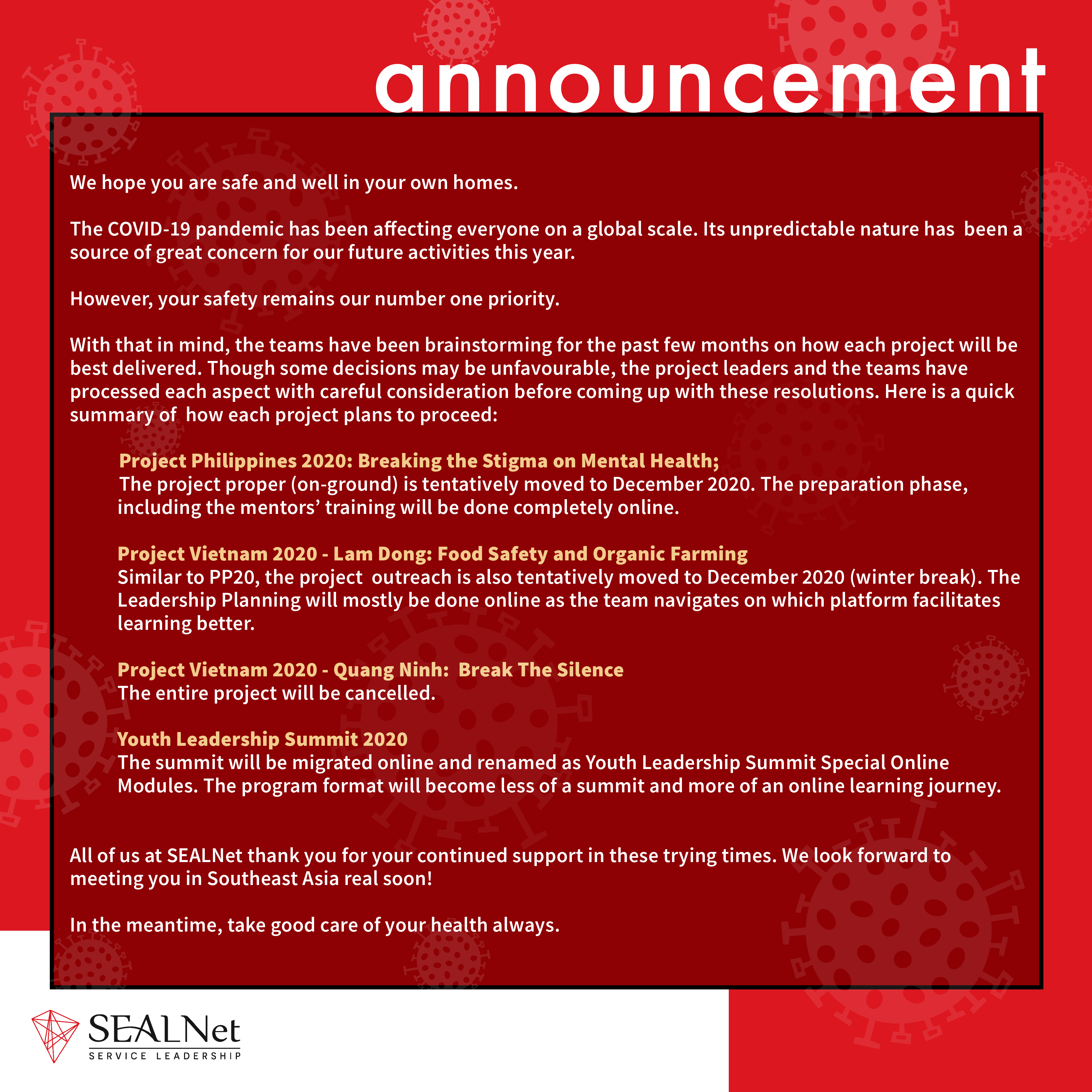 [ANNOUNCEMENT]
We hope you are safe and well in your own homes.
The COVID-19 pandemic has been affecting everyone on a global scale. Its unpredictable nature has been a source of great concern for our future activities this year.
However, 𝘺𝘰𝘶𝘳 𝘴𝘢𝘧𝘦𝘵𝘺 𝘳𝘦𝘮𝘢𝘪𝘯𝘴 𝘰𝘶𝘳 𝘯𝘶𝘮𝘣𝘦𝘳 𝘰𝘯𝘦 𝘱𝘳𝘪𝘰𝘳𝘪𝘵𝘺.
With that in mind, the teams have been brainstorming for the past few months on how each project will be best delivered. Though some decisions may be unfavourable, the project leaders and the teams have processed each aspect with careful consideration before coming up with these resolutions. Here is a quick summary of how each project plans to proceed:
𝗣𝗿𝗼𝗷𝗲𝗰𝘁 𝗣𝗵𝗶𝗹𝗶𝗽𝗽𝗶𝗻𝗲𝘀 𝟮𝟬𝟮𝟬: 𝗕𝗿𝗲𝗮𝗸𝗶𝗻𝗴 𝘁𝗵𝗲 𝗦𝘁𝗶𝗴𝗺𝗮 𝗼𝗻 𝗠𝗲𝗻𝘁𝗮𝗹 𝗛𝗲𝗮𝗹𝘁𝗵;
The project proper (on-ground) is tentatively moved to December 2020. The preparation phase, including the mentors' training will be done completely online.
𝗣𝗿𝗼𝗷𝗲𝗰𝘁 𝗩𝗶𝗲𝘁𝗻𝗮𝗺 𝟮𝟬𝟮𝟬 – 𝗟𝗮𝗺 𝗗𝗼𝗻𝗴: 𝗙𝗼𝗼𝗱 𝗦𝗮𝗳𝗲𝘁𝘆 𝗮𝗻𝗱 𝗢𝗿𝗴𝗮𝗻𝗶𝗰 𝗙𝗮𝗿𝗺𝗶𝗻𝗴
Similar to PP20, the project outreach is also tentatively moved to December 2020 (winter break). The Leadership Planning will mostly be done online as the team navigates on which platform facilitates learning better.
𝗣𝗿𝗼𝗷𝗲𝗰𝘁 𝗩𝗶𝗲𝘁𝗻𝗮𝗺 𝟮𝟬𝟮𝟬 – 𝗤𝘂𝗮𝗻𝗴 𝗡𝗶𝗻𝗵: 𝗕𝗿𝗲𝗮𝗸 𝗧𝗵𝗲 𝗦𝗶𝗹𝗲𝗻𝗰𝗲
The entire project will be cancelled.
𝗬𝗼𝘂𝘁𝗵 𝗟𝗲𝗮𝗱𝗲𝗿𝘀𝗵𝗶𝗽 𝗦𝘂𝗺𝗺𝗶𝘁 𝟮𝟬𝟮𝟬
The summit will be migrated online and renamed as Youth Leadership Summit Special Online Modules. The program format will become more of an online learning journey.
All of us at SEALNet thank you for your continued support in these trying times. We look forward to meeting you in Southeast Asia real soon!
In the meantime, take good care of your health always.